John Nolan

OVERALL STATISTICS

BIRTH
AGE
SIGNED ON
FROM

16-06-1912

N/A

31-01-1930

Sutton Commercial ARLFC

DEBUT
LAST MATCH
LEFT

Non 1st Team Player

Non 1st Team Player

CAREER
APPEARANCES (SUBS)

Not Applicable.

0 (0)

TRIES
GOALS
DGOALS
PTS

0

0

0

0
BIOGRAPHY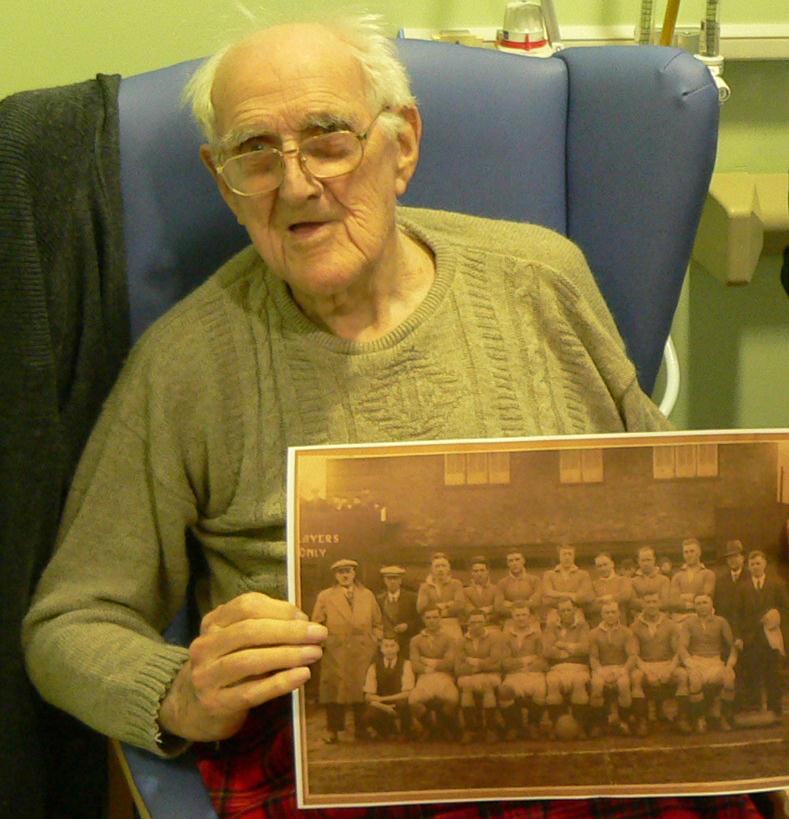 John was an A team player in the 1930s. He also played in some testimonial matches for the first team. His son, John, alerted the SHS to the fact that John was still going strong in his 100th year, surely a record for a Saint in any era.

Alex Service visited John in May 2012.

It was an absolute pleasure to have a long chat to John Nolan recently who is Saints oldest former player at the grand old age of 99! Although temporarily ensconced in Newton Community Hospital after a fall at home, John was only too pleased to recall his playing days for the club in the early 1930s. Things centred around a team picture of the A Team, who played against Wigan at Knowsley Road on Good Friday 1931. This was Ernie Shaws Benefit Match and John remembers the occasion. A tall, athletic winger, he found First Team opportunities virtually impossible to come by with the likes of Alf Ellaby around. 'Theres no-one better than him,' says John. 'He was the finest player Ive ever seen. Mind you, there were some great players around at the time at Saints, like stand-off Les Fairclough and the Welsh centre George Lewis, who was centre to Alf himself.'

A Sutton lad, John joined the Saints from the local junior team Sutton Commercial. 'Jack Arkwright came from the same team as I did,' he recalls. 'We were good mates for years and we would always have a pint or two togetherafter the match mind you!' Matches with Recs were eagerly anticipated and John remembered scoring a three-pointer in one of those halcyon derby clashes with Recs A at the old City Road ground. John has two sons and a daughter and rugbys in the genes too. His nephew, half-back Mike Nolan, also played for the club in the mid 1970s.

Considering he was born just a few weeks after the Titanic sank, Johns memory is fantastic and he is in remarkably good nick, ready to accept that special message from Her Majesty on June 16th the same day England play the Exiles at Langtree Park.


SEASON STATISTICS

Season (Official Matches)
Tries
Goals
DGoals
Matches
TOTALS:
Season (Other Matches)
Tries
Goals
DGoals
Matches
TOTALS:




ALL MATCHES
| Date | | Pos | Opponents | Comp | Season | Venue | FT | FTO | T | G | DG | NPS** | |
| --- | --- | --- | --- | --- | --- | --- | --- | --- | --- | --- | --- | --- | --- |
*Unofficial Match. **Non Playing Sub.
WINS : | LOSSES : | DRAWS :